Imagine this, you are standing in your clean kitchen with your windows open. You hear calming waves, smell the crisp salt water in the air, feel a warm breeze on your skin. Relaxing isn't it.
What if I told you we could replicate some of this with beautiful beach decor? Beach decor may not be your own beach house by the ocean but it can at least provide you a relaxing place to get your morning coffee.
Beach decor in the kitchen is relatively easy to pull off and today I'm sharing my personal favorites in beach cottage decor for the kitchen.
Table Of Contents
For returning visitors or if you are looking for something in specific here is an easy jump to table of contents for you. Just click the link and jump to the part in the post you want to view most. To come back there is a link after every section to send you back to this table of contents.
Beach Cottage Decor Kitchen
Beach cottage decor is a cross between beach decor and farmhouse. It uses aqua and turquoise along with pale sand and white. It's down to earth, uncluttered, with a slight contemporary touch that's perfect if you are looking to create a beachy haven in your home.
In the kitchen we use all our normal everyday supplies to create a beach feel. Turquoise enameled cast iron skillets and dutch ovens, aqua cookware, even a stand mixer that's a beautiful aqua color.
Farmhouse Coastal Decor In The Kitchen
To get the perfect farmhouse beach look stay away from adding too many useless items. Instead make useful items match the decor you want to go after. This means picking the right types and colors for items that will be out in your kitchen daily.
One beach house sign in your kitchen paired with a farmhouse sink, aqua tile, and aqua small appliances can turn your normal contemporary kitchen into a beach cottage kitchen instantly. It's all about choosing and replacing your items to match the look you are going for.
Permanent Farmhouse Beach Decor
Permanent decor are the things that you likely won't replace for years to come. You want these items to be something that if you decided to switch up your decor won't really affect the look you are going for.
Keeping these items more on the contemporary side of things will also allow for an easier selling point if you decide to sell your home.
Sink
A farmhouse sink is a great way to add a farmhouse touch to your kitchen yet it's still sleek looking. If you decide to go with a different decor in the future the sink won't look so out of place. You can find loads of farmhouse sinks here.
Backsplash Tile
I have two tile options that I believe are contemporary enough that will match almost any type of decor while still being a fantastic addition in completing a beach cottage look.
Seafoam Green Glass Subway Tile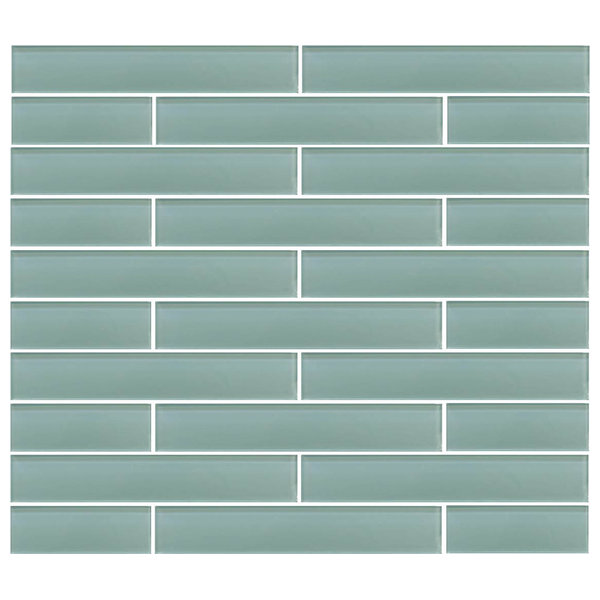 The seafoam green glass subway tile is more beach decor than contemporary based on it's color alone and is a better choice if you plan on sticking with beach decor for the next several years.
Ice Age Glass Subway Tile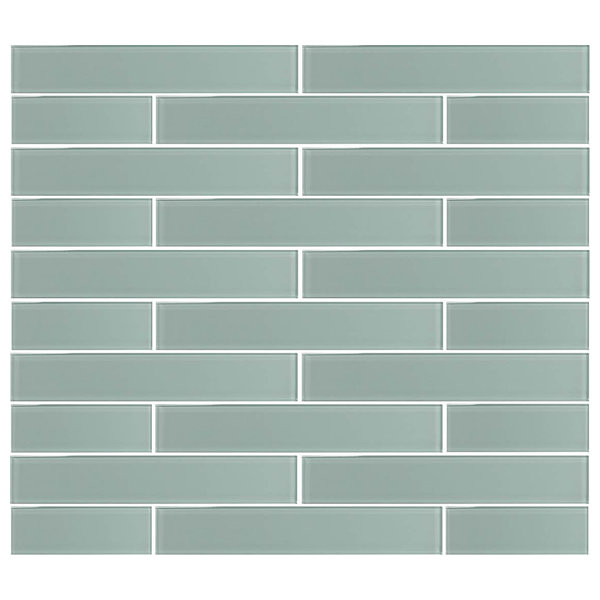 I personally prefer this Ice Age glass subway tile over the seafoam because it's a softer color that will look good if you move or change up your kitchen decor.
Small Appliances
Small appliances typically sit on your countertops and become a part of your kitchen decor. Choosing the right style and color for your small appliances can make all the difference in turning your kitchen from what it is now into a farmhouse beach kitchen.
KitchenAid Mixer
The aqua sky color in this kitchen aid mixer is a fantastic addition for a useful item in your kitchen. The color screams beach decor while still providing you with the quality you have grown to trust in KitchenAid stand mixers.
KitchenAid High Performance Blender
After a comparison of the different blenders that Kitchen Aid offers this blender is my personal choice for your beach cottage kitchen. While it currently doesn't come in aqua the white would work great in your newly decorated kitchen.
Farmhouse Beach Cookware
While our cookware is often hidden away when you are having company over for dinner it's great to have cookware that blends well with the kitchen. I know I often keep my dutch oven and my cast iron skillet on the stove top instead of inside a cabinet because of how often I use them.
6-Piece Enameled Cast Iron Set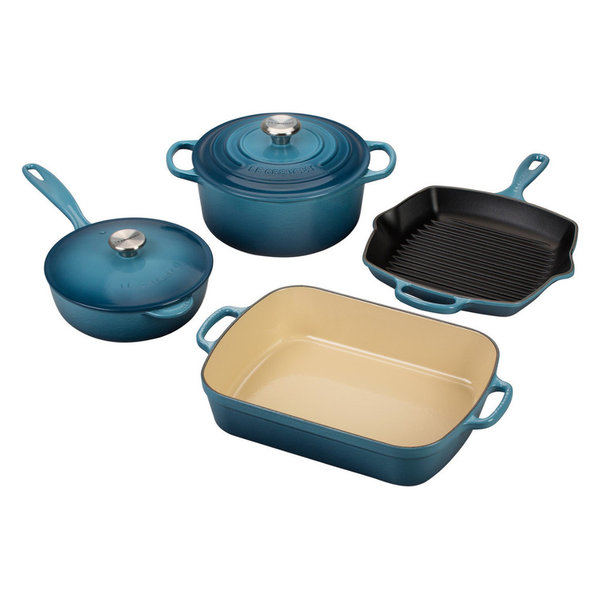 This cast iron set is one of the best you will find for enameled cast iron cookware. It's still extremely heavy but it cooks food more easily as cast iron tends to heat more evenly than traditional cookware.
12 Piece Ceramic Non Stick Cookware Set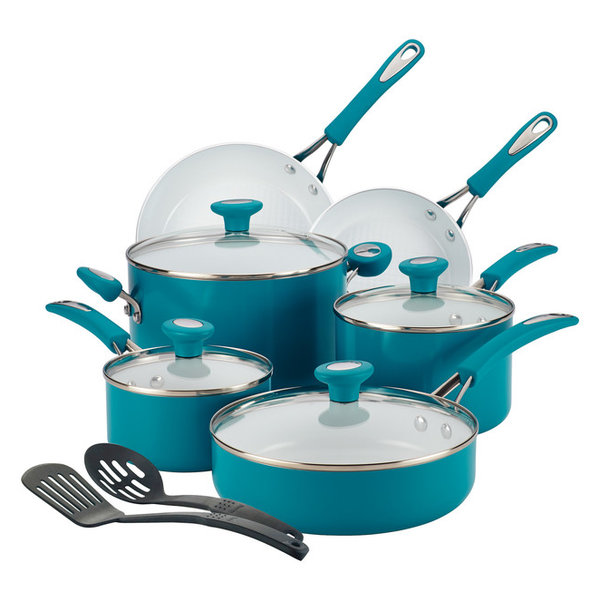 If weight is a problem for you this 12 piece ceramic set is also a fantastic option. It's non stick and on most ceramic cookware I barely have to scrub, just a quick soak with hot water and anything that is stuck comes right off.
5-Piece Utensil and Crock Set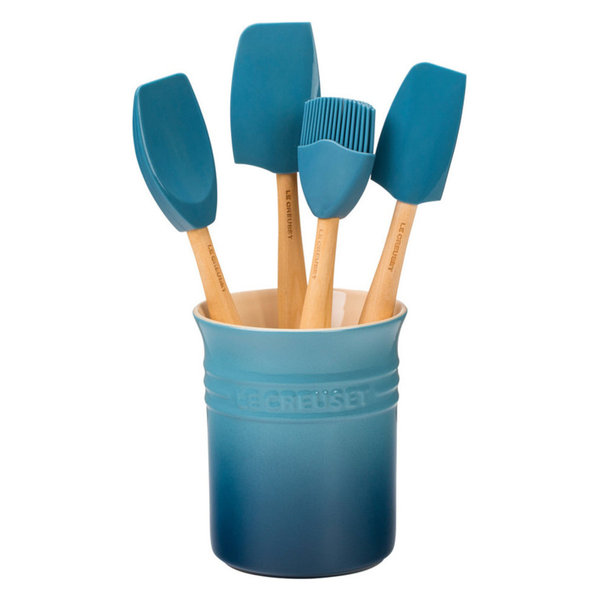 This utensil and crock set allows you to free up precious drawer space while keeping with your beach cottage look in your kitchen. It matches all the Le Creuset craft series in the marine too.
Batter Mixing Bowl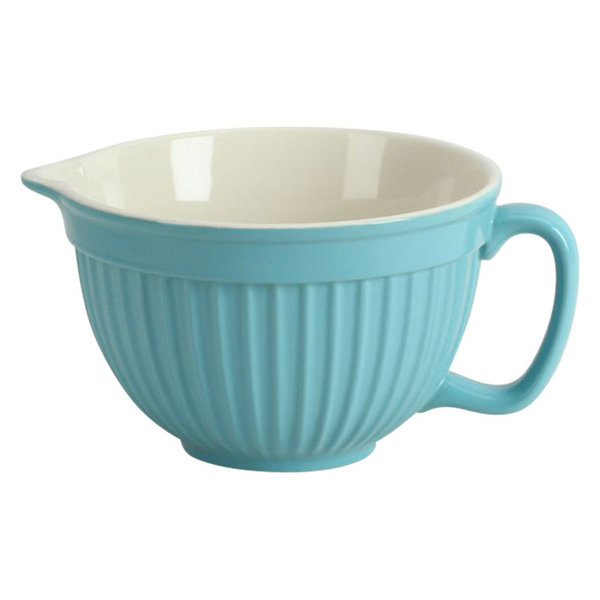 This is an adorable mixing bowl with spout. It makes pouring batter easier and leaves less drips and spills. It's fantastic for easy brownie and pancake mixing and perfectly matches the farmhouse beach decor in your kitchen.
Serving Platters, Bowls, and Accessories
Of course if you are going to go with a farmhouse beach kitchen you need to have the right serving bowls and plates too. I personally love the look of the Le Creuset in Caribbean line as it will most closely match everything in your kitchen and match a farmhouse beach decor in your dining area too.
Serving Bowl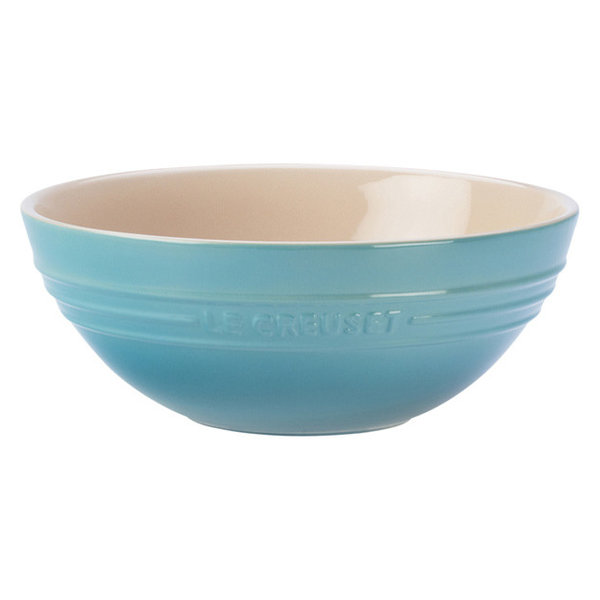 This multi purpose bowl can serve stews, salads, or fruit as needed for the meal you are serving. It's a beautiful bowl that won't distract from conversation or take away from any other accessories on your table or in your room.
Serving Platter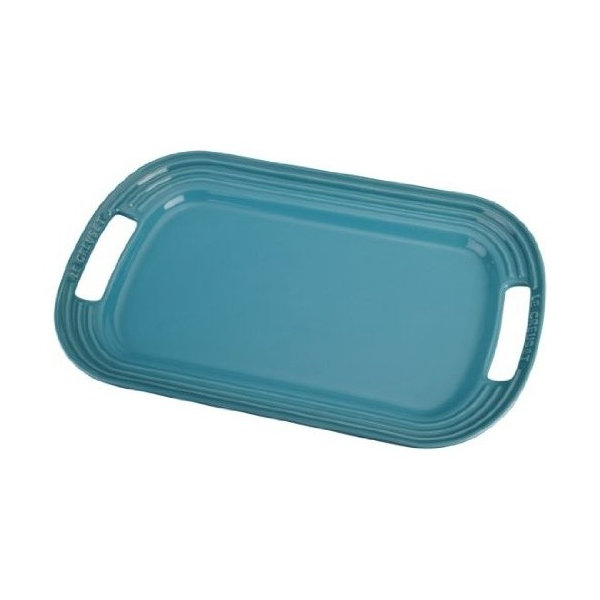 The matching serving platter allows you to serve up chicken, beef, pork, or even loads of vegetables with your main dish.
Light Teal Serving Tray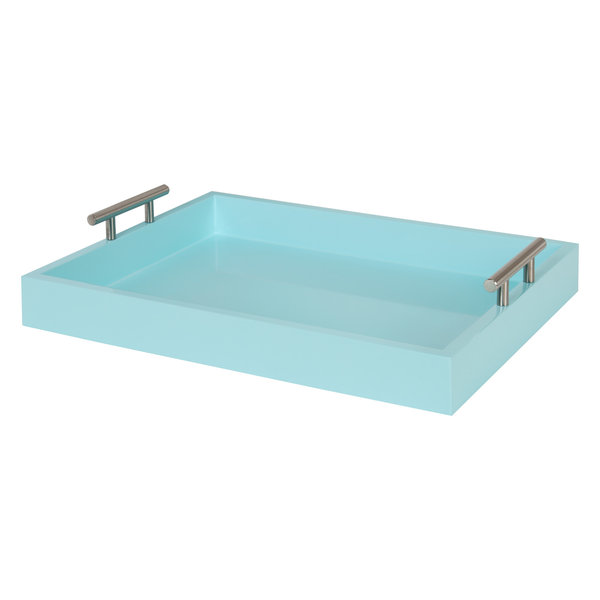 If you're serving appetizers, desserts, tea, or breakfast in bed this tray makes it easy while blending perfectly with your farmhouse beach decor.
Teapot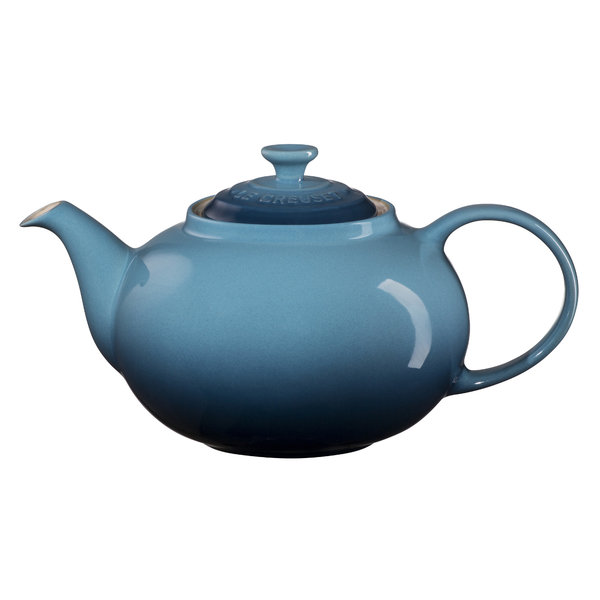 Speaking of tea this stoneware teapot will keep your tea hot during an entire visit with your friends or family.
Dinnerware Sets
You will want to choose a dinnerware set that matches your farmhouse beach decor as well. These are daily, likely to be seen items that are easy to replace if you decide to switch up your style in a couple of years.
The three sets I picked out though are contemporary enough that they can work with any decor option that uses turquoise or aqua.
Marine 16-piece Dinnerware Set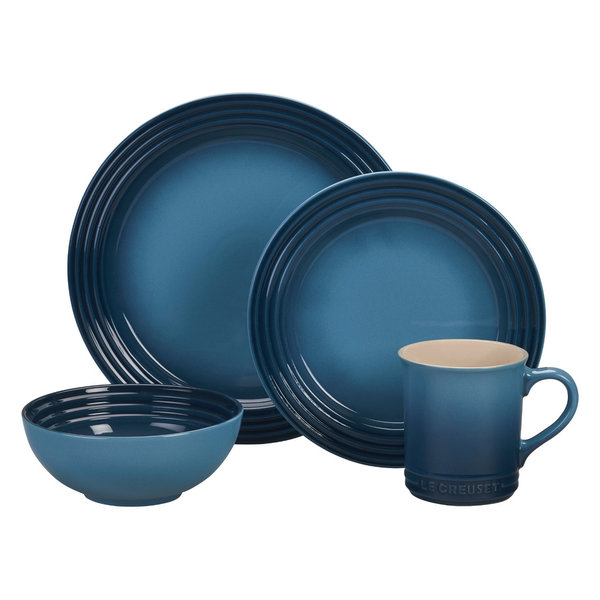 This Le Creuset 16 piece dinnerware set will match the serving platters and the cookware previously mentioned in this post. If you are looking to match up all of your styles with this set it's perfect.
Do yourself a favor though and use plenty of white and light colored options if you decide to use this set. While the color is great for coastal decor it is a bit dark for the light and airy nature of farmhouse decor.
Agave Blue 16-Piece Dinnerware Set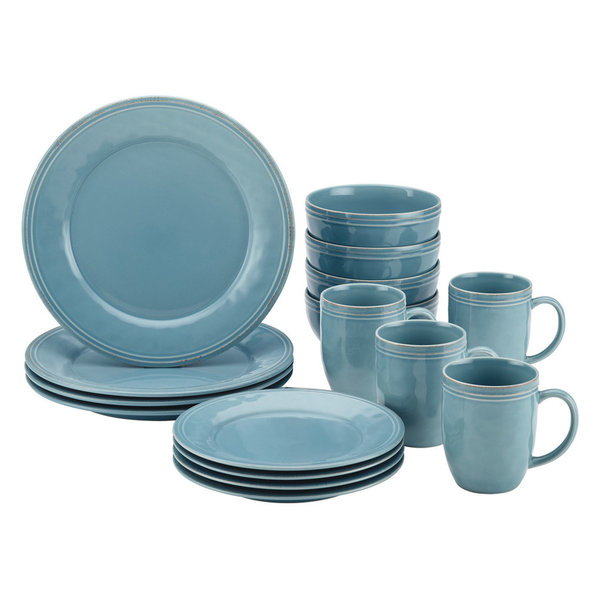 This 16 piece agave blue set is traditional yet simple design that blends well with the farmhouse style. The darker tone of the agave blue will match well with lighter or brighter serving pieces you may have too.
Aqua 16-Piece Dinnerware Set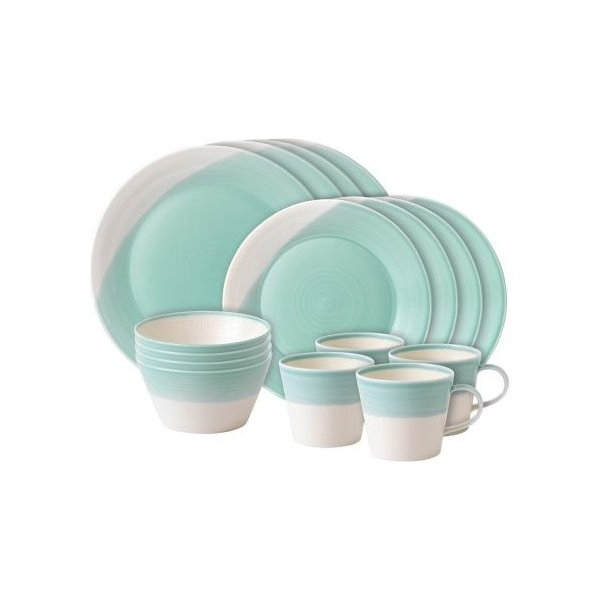 Now if you are looking to add a touch of a unique style of bright and airy farmhouse beach this set is perfect. It's unique but has a beautiful light aqua color and an almost ocean meets the beach feel in the coloring.
Additional Decor Items
There are bound to be a few extras that you put in your farmhouse beach kitchen in order to finalize the look. A canister set for flour or sugar is a great countertop accent. Finally add a sign above your sink or above your kitchen cabinets.
Kitchen 3-Piece Canisters Set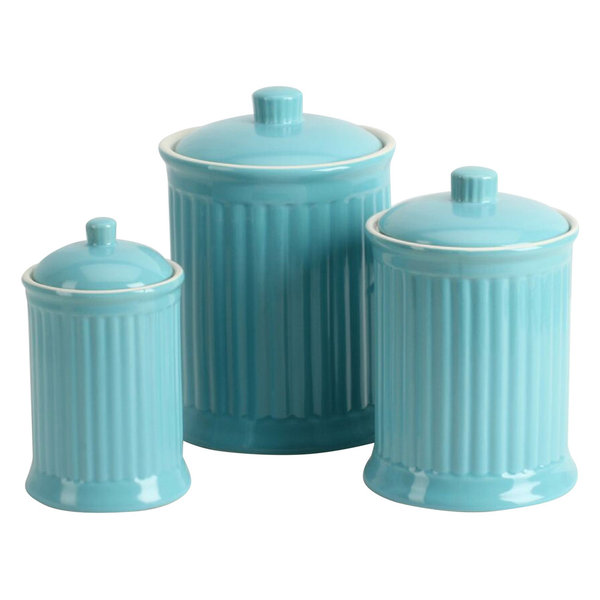 This 3 piece set in turquoise will balance beautifully with the ice age glass subway tile I previously recommended.
Farmhouse Beach Sign
A generalized farmhouse style beach sign is a fantastic addition to your kitchen. This sign is contemporary enough that it won't overpower the room while still sticking with that beautifully simple farmhouse style.
Personalized Family Beach Sign
Or you can get personal in your kitchen with a personalized beach sign like this one. It's perfect for farmhouse beach decor while adding a personalized touch to your perfect kitchen.
Final Thoughts
Remember, to achieve farmhouse beach, keep it light and minimalist. Too many decorations and you have a farmhouse look with aqua accents instead of beach decor with a farmhouse touch. You want the look to be clean and clutter free.
From time to time as I come across new and fantastic items I'll be changing and adding new items to this list so make sure you bookmark it or pin it to your farmhouse beach kitchen boards on Pinterest.
Related Posts: