We all desire a relaxing retreat in our bedrooms and farmhouse beach decor is a beautiful and relaxing decor that's perfect for bedrooms. When done right your room is turned into a beach side cottage.
If you don't live near the beach you can turn on ocean sounds on an app and instantly escape.
In today's post I'm going to give you some decorating tips for your bedroom. I'm also going to share some beautiful bedding sets that will turn your room into a beach cottage resort.
What Is Farmhouse Beach Decor?
Farmhouse beach decor is a mix of the clean farmhouse weathered style with beach colors and accents. When done right your room will look like it belongs in a cottage by the shore instead of wherever your house may be.
Use A Weathered Wood In Your Furniture
When it comes to your furniture you want to use a weathered wood in your big pieces. This will give you that rustic weathered cottage look.
Try to keep it to two or three main pieces with this type of wood, this will allow some of the more coastal accents to take the spotlight in the room. You want the room to be a beach cottage not solely a beach decor or solely farmhouse.
Keep Your Colors Bright and Light
Use bright aqua, off whites, white, and ocean blues in your room. This will really give the room a beach cottage vibe.
A bright room will look cleaner, open, and fresh; as if you were sitting on your bed and staring at an ocean view.
Don't Use Too Many Pillows
Beach cottage is a more minimalist approach to both farmhouse and beach decors. So keep your accessories and especially your pillows to a minimum. Three small accent pillows on a freshly made bed are enough.
If you add too many pillows it will become the focal point, and leave the room feeling less minimalist and cottage and more cluttered.
Make Your Bed With These Sets
The bed is typically the focal point of the bedroom. So you want the bedding to reflect this beautiful farmhouse beach look you are going for.
Below are sets that I found that are a beautiful mix of simplistic farmhouse and beach decor.
Harbor House Jacquard 6-Piece Comforter Set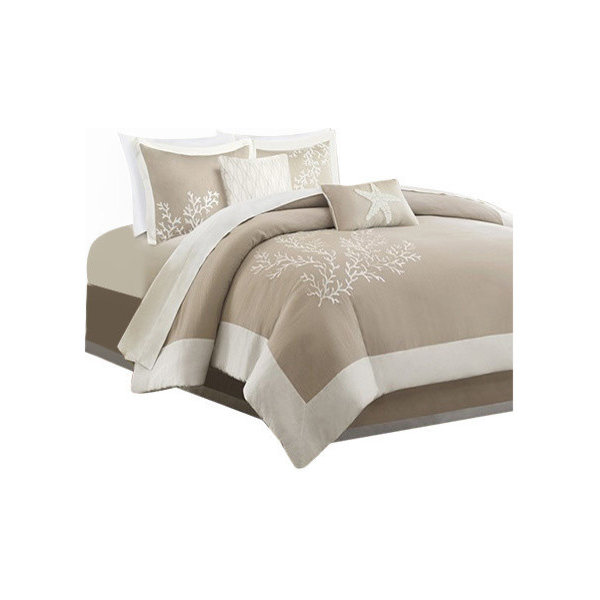 This beautiful 6 piece set is great if you're going with a more neutral color scheme in your room. The embroidery is a great beachy touch while the sand color works great with white washed furniture.
Simple Stripe With Stitch Embroidery Comforter Set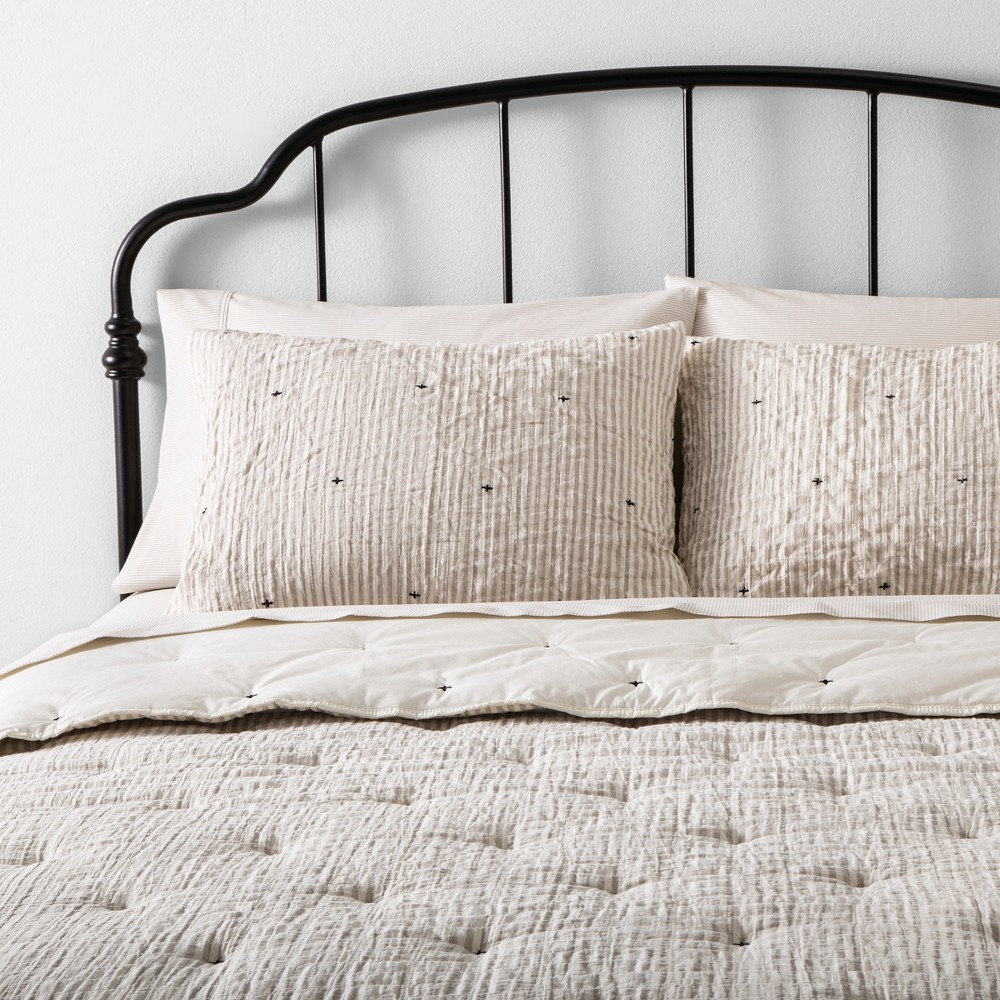 If you are using quite a few beachy accents in your room like driftwood, shells, and sea glass, this is a great bedding choice for you. It's simple and perfect for farmhouse decor. Mixed with the right accessories it's got a comfortable beach house feel to it.
Madison Park Quilted Comforter Set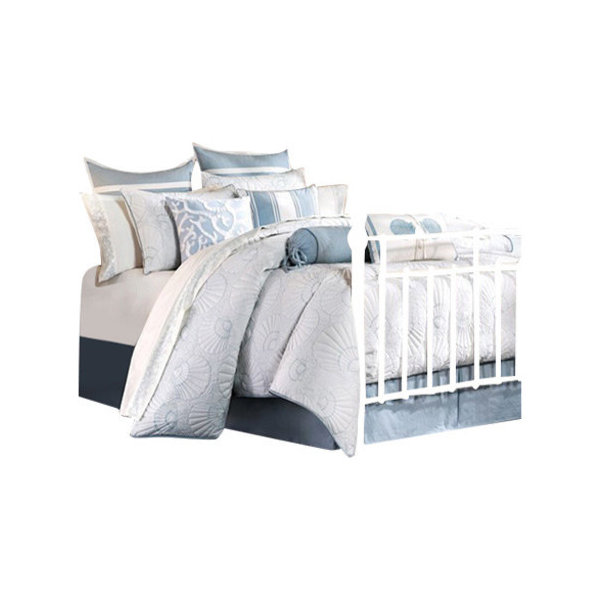 This simple bedding set is comfortable, clean, and perfect for that bright and airy beach cottage look. The ocean blue will go well with seafoam green and aqua accents in the room. This is great for a more traditional style room.
Textured Stripe Comforter Set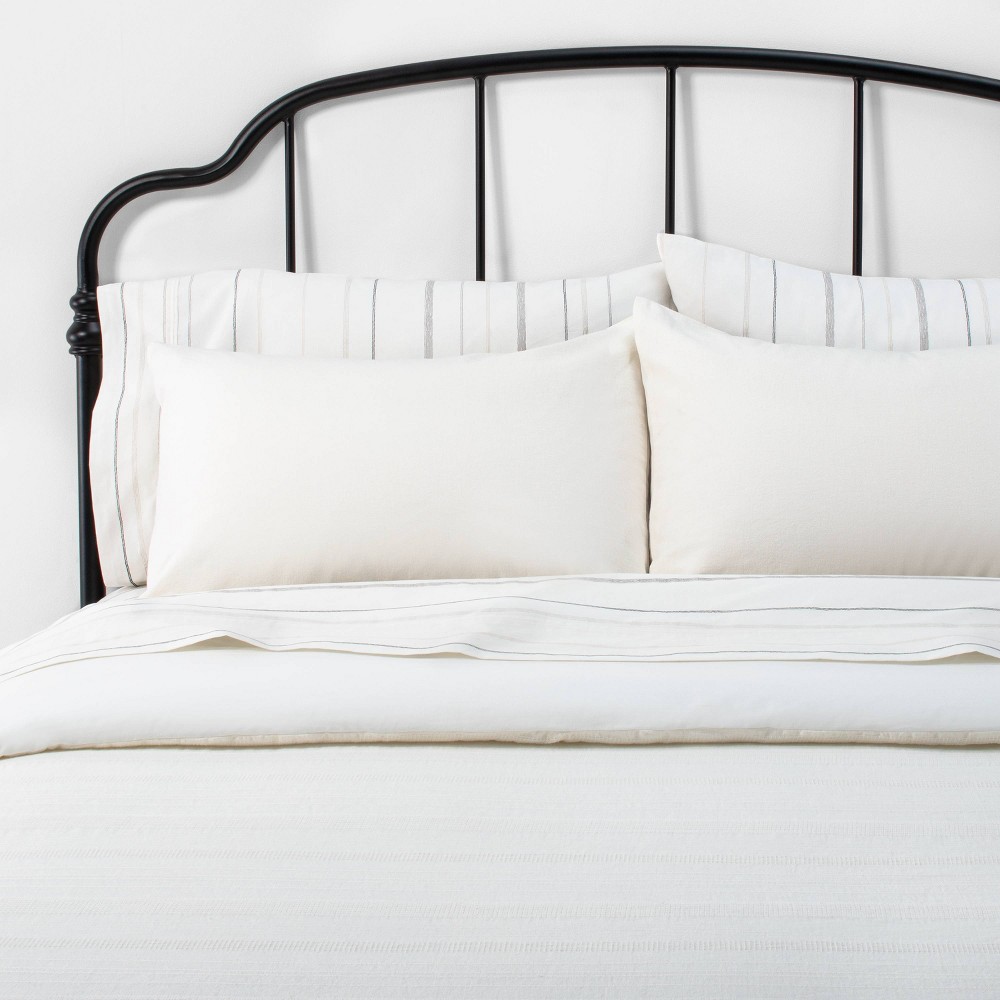 To keep things super simple this comforter set is absolutely perfect. Grey is a great neutral color that goes well with any of the beach and coastal color schemes. Add an aqua throw and ocean green accents in your room for a great beach cottage look.
Harbor House Jacquard Coastal Comforter Set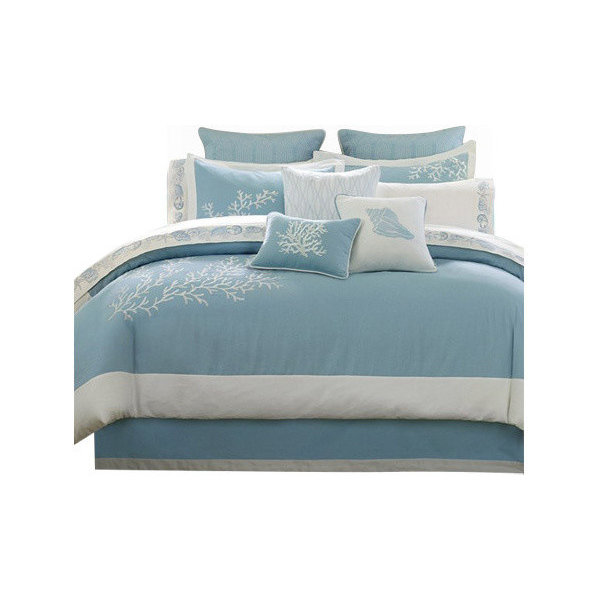 If you have plenty of farmhouse style accents and furniture in the room this bedding set is perfect to bring in that beach feel. It's a beautiful set to bring out the beach cottage feel of the room.
Soledad 7 Piece Comforter Set – Blue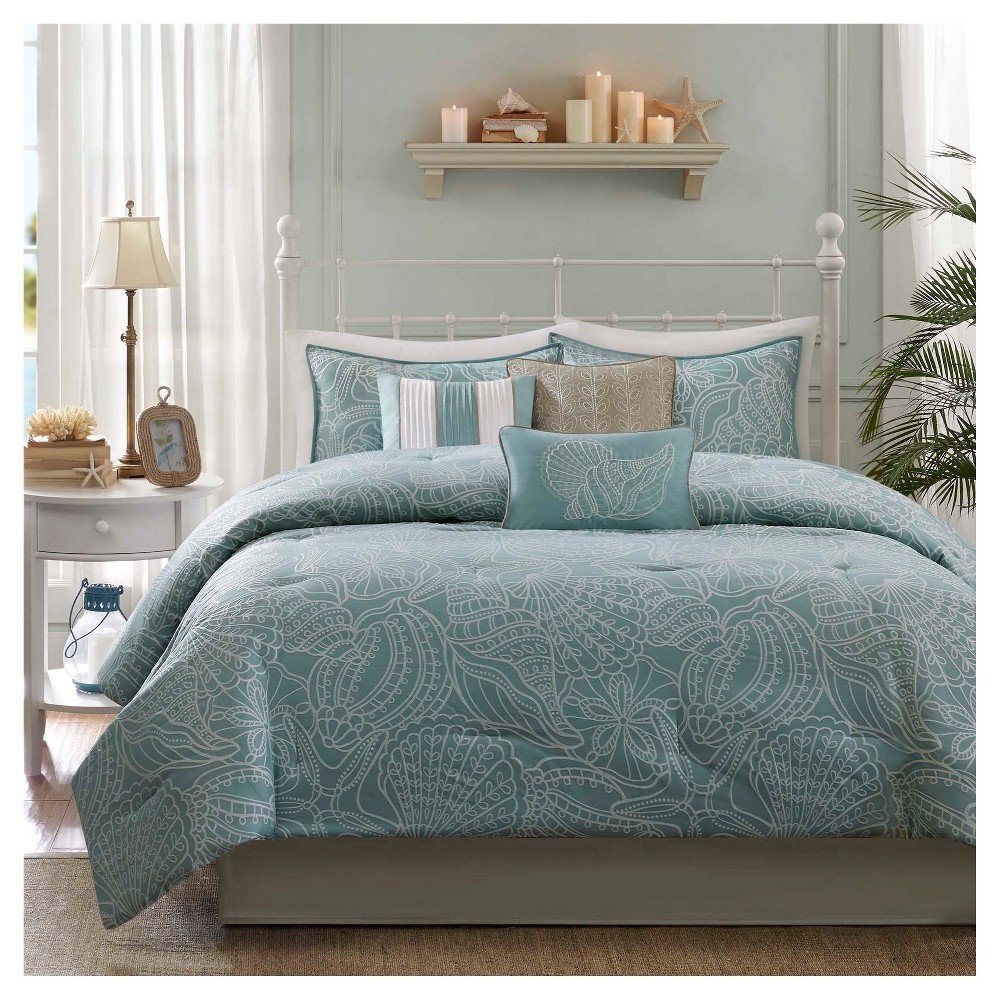 This comforter is a great option if you don't plan on adding too many additional accents to the room. The seashell embroidery is a great farmhouse classic style touch to this bedding set.
Harbor House Printed Comforter Bedding Set With Embroidery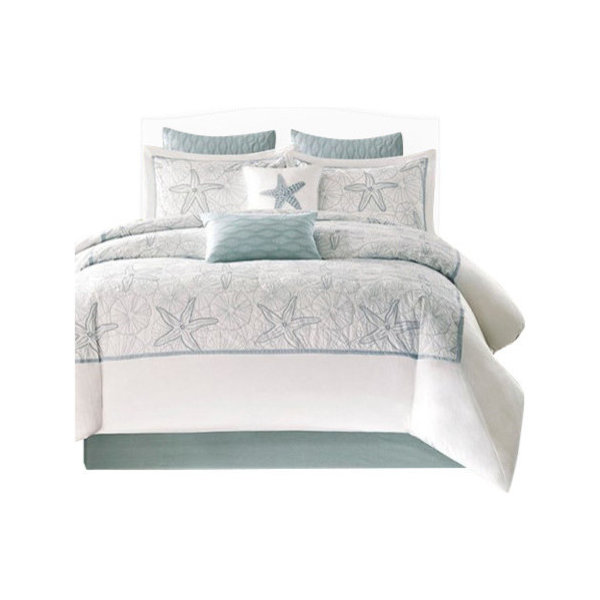 The brightness in the white on this set really shines while using a quilt like pattern. This is best for bright rooms where there aren't going to be a lot of accents. Keep the remainder of the room minimalist in order to have the bedding really stand out as the focal point.
Cabrillo Complete Comforter and Sheet Set
If the farmhouse aspect of your beach cottage room is more on the modern side this is a great bedding set for that. It pulls in all a great beachy color palette while still maintaining a simplistic look that blends well with farmhouse decor.
Beautiful Farmhouse Beach Bedding Sets
Your bedding set should be something comfortable. It should call you to the bed to lay down, relax, and get a good night's sleep. It should also be something you enjoy waking up to see.
A farmhouse beach bedroom ends up being a fantastic place to just go and relax. It's a relaxing environment to wake up to. It brings the island life into your home to provide a beautiful place for you to retreat to at the end of a long day.
Which bedding set is your favorite? Let me know in the comments below. Follow me on Pinterest for more like this and pin this to your favorite home decor boards.
Recommended Posts: